So for anyone who doesn't believe that God has a sense of humour, you should read my
last post
. It was a lovely thing about taking time and enjoying life around me.
Giggle*Snort*Guffaw
Sigh.
Well, that didn't work so well. The summer ended up being a little crazier than expected. Henry was working full time at a job that wasn't a great fit for him. I was participating in three farmers' markets a week, which meant Moses was in daycare three days a week as well. It was a little nuts. Granted, we have learned from this process. Two markets a week is good, and we can handle that. Three seems to put us over the edge at this point in time.
The fall was busy with three times the bulk orders as last year, plus a Christmas rush. As well, we raised turkeys for Christmas and some chickens for our own freezer. We made a decision not to pursue a breeding herd at this time, but it is something we'd like to do once we are living on our own farm. I am not complaining about any of that as the increased sales were a welcome surprise. In the middle of all that, on my birthday in fact, I got this surprise as well: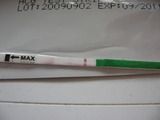 Okay, so it wasn't a complete surprise, but I really didn't think that October was going to be the month. In fact, I was so sure that I was NOT pregnant that the day before when Henry and Moses took me out for lunch for my birthday I had a beer. (God really does have a sense of humour).
Thankfully, we seem to have established a kind of equilibrium. We are still busy, but things seem to be progressing at a pace with which we can deal. Henry is now teaching which is a much better fit. A full-time position may be opening up this summer, and we are praying that he gets it. Work on his thesis is progressing as well, and a rough draft should be submitted by mid-February. We were asked (after I asked to be asked) to participate in a really good market once a week, and if all goes well, we will hopefully be invited to participate weekly in the summer. Ideally, if we attend that market and we remain at our other favorite market, we should make at least as much if not more than we did last year at three markets. (Yes, we are still working out the logistics of a very pregnant woman loading and unloading coolers). I also continue to waffle about whether to find out the gender (final decision date February 19).
In between all that, we hosted my in-laws and parents for Christmas. Have had time to play in the snow. Do a billion and one puzzles. Dance. Play "hockey stick" in the basement. Relax.
It's nice.